Preview and buy this album.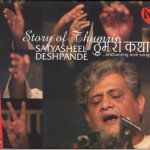 Track list:
Aeji Savare – Kalingada
Jal Jamuna – Pancham Se gara
Three Moods Of Kaafi
Chale Jaiho Bedarda – Pahadi
Dagar Mori Chhando
Lag Gai Chot – Gara
Ras Ke Bhare Tore Nain – Bhairavi
The Thumri is one of the most enchanting forms of North Indian music. 'Thumri Katha- The story of Thumri' is an attempt to showcase the various faces of the Thumri.
Thumri Katha encompasses the many emotions and situations that this 'lighter' form of classical music has traditionally portrayed. The thumri is essentially an expression of the sringar rasa, of the delicate, passionate, playful utterances of the young woman in love. Frequently though, emotions of indescribable divinity emerge from all of the thumri's erstwhile almost naughty playfulness.
Incorporating these ideas into one album to do justice to the variety traditionally found in Thumri singing was, to quote Satyasheelji, quite a challenge. Never one to do things half-heartedly, Satyasheelji devoted almost six months to this project, listening to the approximately 250 thumris he has in his archive. He moulded the tonalities of his voice to suit thumri singing. To add to this, each thumri has been sung by Satyasheelji in the style of the land of its origin, in the manner of the culture of its originators.
The seven thumris on the album are another example, charactersitic of Satyasheelji, of how versatile in knowledge, performance and even in the use of the voice, one can be. Thumri Katha was launched released at the hands of the legendary Pandit Bhimsen Joshi in Pune in December 2006.
Credits
Released 02 November 2007
Tabla: Shri. Sai Banker, with guest appearances by Shri. Prashant Pandav and Pt. Arvind Kumar Azad
Harmonium: Pt. Satyasheel Deshpande