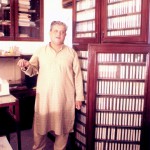 The Samvaad Foundation is a government recognized trust founded by Satyasheelji that has an archive of over 8000 hours of recordings of Hindustani Classical vocal music and over 3000 annotated, unpublished compositions.
As the name connotes, Samvaad represents and is synonymous with establishing a dialogue between exponents of various traditional values of the 'Gharana' system, values which have sustained the traditions of Hindustani Classical Music. For this purpose, Samvaad has been engaged in recording senior vocalists and musicologists of diverse artistic temperaments representing an approximately two hundred-year-old tradition. Samvaad has also recorded and continues to record non-professional musicians or those not within the commercial stream, who as a consequence of their unquestionable dedication, manifest the integrity of the Gharana and are the true representatives of its ethos.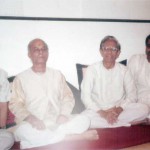 Samvaad functions as an open house nerve center, without time constraints, responding to the needs of students, young and veteran musicians and teachers. Samvaad's congenial atmosphere and easy accessibility is conducive to impromptu sittings among musicians, rehearsals and training, student-teacher interaction and exposure to the teaching methods of the Gharanas through its programs. In addition, Samvaad invites outstation artistes to reside at its premises in the spirit of true musical brotherhood, thus gaining wide access to the repertoire of the artiste under documentation, inspiring and capturing an easy flow of ideas and responses.
Between its establishment in 1975 and its registration as a Public Charitable Trust in 1983, Samvaad held workshops, seminars and annual music conferences to encourage young exponents and non-professional talent. A project to document numerous musicians and musicologists was undertaken in 1984 and this was later supported by grants from The Ford Foundation, USA, the Government of Maharashtra and the Central Government of India. Samvaad is currently in the process of digitizing the entire archive for better preservation.
The archive at Samvaad is thus an invaluable resource for the contemporary musician or student of Hindustani music. It gives students the opportunity to listen to and comparatively analyse the music of their predecessors, thus vastly increasing their repertoire, developing their aesthetic sensibilities and exposing them to the innumerable possibilities this music has to offer.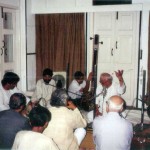 Situated in a central and easily accessible area of the metropolis of Bombay, Samvaad has an air-conditioned, soundproof listening room, recording studio and equipment room, which houses the latest in audio equipment.
Access to the archives and listening sessions, within the premises of Samvaad for individuals and groups are subject to prior appointment. For any more information about Samvaad, please contact us.
More about Samvaad: Articles by Satyasheelji