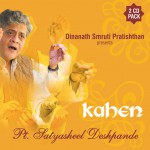 Listen to or buy this album.
Track list:
Jhoola – Sur Malhar
Dar Laage Oonchi Atariyaa – Sur Malhar
Lata Mangeshkar Speaks
Kisko Aisi Baat Kahen – Gaud Malhar
Ban Mein – Gaud Malhar
Jaani Jaani – Gaud Malhar
Maadho Mukund & Maro Kaakariyaa – Ramdasi Malhar
Sundar Surajanavaa – Charukeshi
Balam Mori Chaando Kalaiya – Bilaskhani Todi
Tarana – Tanata Na Deem – Bilaskhani Todi
Sakal Mil Sunat Raag Vilaas
Tarana – Taan Re – Bilaskhani Todi
Tapan Laagi Geheri – Shuddha Sarang
Bataide Mohe Gaan – Shuddha Sarang
Kite Din Piya Dekhe Bin Beete – Shuddha Sarang
Mori Kar Pakarat – Dhani
An artist's 'kahen' is his particular way of bringing to life the lyrical and melodic content of a song and imbuing it with emotive significance. Every maestro that Hindustani Classical Music has seen has had his own unique kahen. Satyasheel Deshpande's kahen is a soulful rendering of his innate expression, nurtured by his intense study of and exposure to these maestros through his father, the eminent musicologist Shri Vamanrao Deshpande, his guru, Pt. Kumar Gandharva and his phenomenal study of the art through his archives, The Samvaad Foundation.
Kahen takes a fresh new look at the latent creative potential of classical music. In his concise renditions of traditional compositions as well as those of his own, Satyasheel explores the song within the bandish, so to speak. He unravels and develops the bandishes' infinite possibilities in ways that bring out and enhance their lyrical content instead of suppressing it for the sake of purely musical elaboration. His renditions bear testimony to his rigorous classicism, his command over sur, laya, taal and raaga and his flair for imaginative improvisation, with a delight in the song-like essence of classical composition.
Satyasheel's kahen does not bear the stamp of any single gharana or guru. Instead he searches for a kahen that is appropriate to the specific feel of each bandish; and this emotive versatility gives rise to a spectrum of various moods.
What makes 'Kahen' a remarkable musical enterprise, is the fact that the emphasis on the song element does not imply any compromise as far as raaga and taal are concerned. Satyasheel stays true to his classical essence while ardently exploring possibilities that are often overlooked in contemporary classical music. Listening to this album is a must, both for the lover of lighter forms who wishes to enter the realm of the classical and also for the classical connoisseur who wishes to view raaga, taal and bandish from a fresh perspective.
This album was produced by Pt. Hridaynath Mangeshkar and was launched at the hands of Bharat Ratna Lata Mangeshkar in 2004. The Mangeshkars, who have always been very closely associated with Satyasheelji, were deeply involved in the project from the beginning. The CDs also contain a short introductory speech that Lataji made herself in praise of Satyasheelji and his music.
Credits:
Released 12 December 2004
Vocals: Pt. Satyasheel Deshpande
Tabla: Milind Pote
Musical Supervision: Pt. Hridaynath Mangeshkar