When: Sun Jan 10, 2010 6:30pm to 7:30pm
Where: Ramanbaug School Grounds, Pune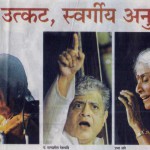 Pt. Satyasheel Deshpande will perform live once again at the prestigious Savai Gandharva Sangeet Mahotsav in Pune.
The festival will be held from January 7 to January 10 2010.
Satyasheelji will perform in the evening of the 10th of January, after Pt. Ramnarayan's Sarangi Recital.
Visit www.sawaigandharvasangeetmahotsav.com for information about the festival
Satyasheelji's new album will also be released at the Savai Gandharva Mahotsav at the hands of renowned flautist Pt. Hariprasad Chaurasia, on the 8th of January.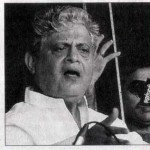 Satyasheelji will also participate in an open discussion on music along with vocalist Smt. Padma Talwalkar and Shri. Mukund Sangoram, editor, Loksatta. This event will take place on Friday, January 8th 2010, at the Savai Gandharva Smarak,
Near Rahul Talkies, at 12:00pm.