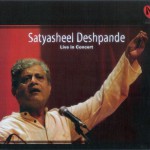 This is a recording of a live concert that took place on the 19th of July, 2009, at the Manthan series of concerts, in Vashi, Mumbai.
Satyasheelji's command over spontaneous improvisation is best demonstrated in his live concerts. His imagination and inventiveness along with his thorough understanding of traditional interpretations, his ability to create unexpected movements within the raag, his exceptional command over laya-taal are all apparent in this concert.
The power, the emotion and the imagination that Satyasheelji displayed in this concert moved many to tears. His powerful, resonant voice and his intense sur ka kaam in multani gripped the audience from the very beginning. The lilt of the bandishes in raga megh and the emotion of the thumri in raga pilu kept the audience riveted till the very end of the performance.
Track List:
Multani – Man Ki Man Hi Maahi Rahi
Multani – Manvaari Ho Kaari Kaari
Multani – Dil Bekaraar Hai
Megh – Garaje Ghataa Ghan
Megh – At Dhoom Dhaam Aae
Megh – Bolan Laagi Papiharaa Re
Thumri – Laag Rahi
Nirgun Bhajan – Naiyya Mori